Dancing with the Stars- Jacket Style
Dancing with the Stars- Jacket Style
March 18, 2017
McT Portier Center
FLOOR SEATS SOLD OUT
Don't wait to get your general admission tickets!
Can't make it? Watch it LIVE!
We are proud to introduce this premier fundraising event to benefit McGill-Toolen Catholic High School. This will replace our annual auction, Jacket Jubilation, as our ONLY event fundraiser.
Join us for an evening of fabulous entertainment by our very talented dance teams along with dinner and drinks provided by Mobile's finest caterers and restaurants. Guests must be 21 or over please.
Join hosts Fr. Shields and WKRG's Devon Walsh and our dancers: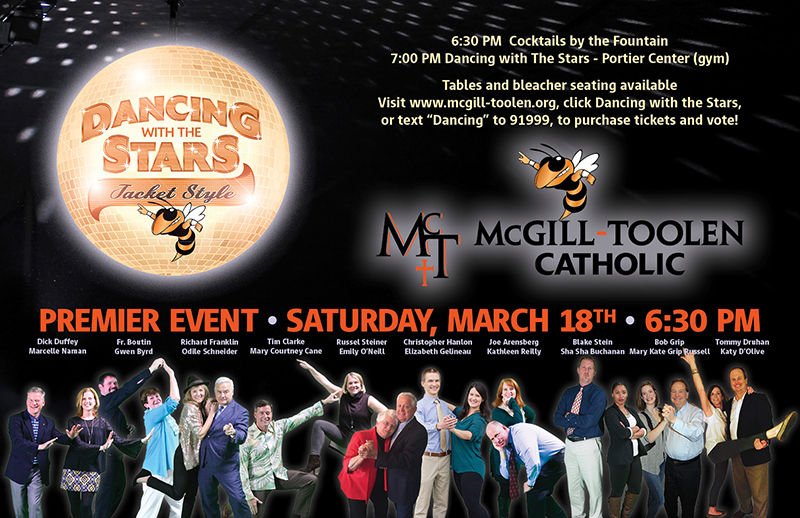 Fr. Chris Boutin: McT Football chaplain and parochial vicar for St. Dominic Parish
Ms. Gwen Byrd: Superintendent for the office of Catholic Schools, Convent of Mercy class of 1961
Mr. Richard Franklin: Former School Board President, Alumni Parent
Mrs. Odile Finnorn Schneider: Current Faculty member, McT Class of 1982
Coach Blake Stein: Assistant Principal, McT Girls Golf Head Coach
Miss Sha Sha Buchanan: McT Volleyball Assistant Coach, McT Class of 2010
Mr. Tim Clarke: McGill-Toolen Foundation Board Vice President, McT Class of 1984
Mrs. Mary Courtney Cane: McT Class of 1980, Parent
Coach Joe Arensberg: McT Football Assistant Coach, Theology Department
Mrs. Kathleen Dolan Riley: Theology Department Chair, McT Class of 1985
Dr. Richard Duffey: Parent, Volunteer
Mrs. Marcelle Rathle Naman: Vice President McGill-Toolen School Advisory Board; McT class of 1985
Mr. Bob Grip: Fox 10 News Anchor; alum parent
Dr.. Mary Kate Grip Russell: McT Class of 2003
Mr. Tommy Druhan: McT Class of 1988
Mrs. Katy Geil D'Olive: McT Class of 1987, parent
Mr. Russell Steiner: grandparent, alum parent
Mrs. Emily Mostellar O'Neill: Bishop Toolen class of 1958, grandparent, alum parent
Dr. Christopher Hanlon, Class of 2003
Miss Elzabeth Gelineau, Class of 2002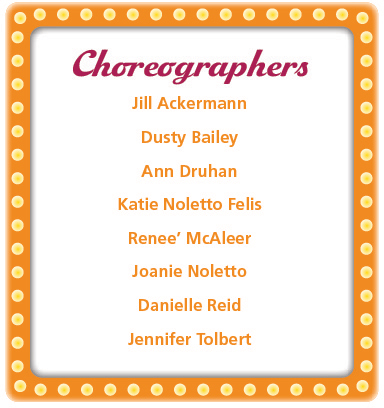 Live Auction Items:
Full Set of Braces by Hicks & McMurphy
McT Graduation & Prom Package
7 Nights at the Ritz Carlton -St. Thomas
McT Parking Spot
Chance to Dance- DTWS- Jacket Style 2018
All tables and floor seats are sold out!
We still have general admission seating in the bleachers which includes Open Bar, Buffet and Fabulous Entertainment!
Tickets are $50 each
To purchase tickets or vote for your favorites
Text "dancing" to 91999

Download form attached and mail it to McGill-Toolen Catholic Advancement Office. 1501 Old Shell Rd. Mobile, AL 36604
Committee Members:
Co-chair

Gina Briggs

Co-chair

Tricia Vallée

Co-chair

Susan Duffey

Publicity/PR:

Charlene Hanlon

Dancers Liaison:

Marie Grip

Choreography:

Renee' McAleer & Jennifer Tolbert

Operations Chair

Kristin Pfeffle

Food Chair

Laura Megginson

Beverages Chair

Kim Barton

Decorations Chair

Kim Cooney/Tiffany Seibt


Director

Beth Haley

Sponsor Chair

Siri Johnson

Tickets/Fundraising

Shannon Blake

Check-in

Emma Mayhall

Volunteers

Terri Stephens

Dancing with the Stars- Jacket Style